Yessir, it is official rosterbation time! Thanks in no small part to
Brunt, Blair, & McCowan
offering up enough hope in baseless speculation form to break out the rare "in-season rosterbation." Stoeten did a good job of a) recapping the conversation that stopped just short of throwing hard numbers into play but provided enough fodder to stoke the fires and b) offering up a few potential big names that could fit with the team thanks to their new found, wait for it, financial flexibility.
Before I drop names like Marco Scutaro drops routine grounders in high-leverage situations (zing! low hanging fruit!), understand a couple things. No matter how much perceived cash the Jays may or may not have to spend, they will still be strictly budgeted. If they aren't, they should be. Spending money just because you have it gets you into terrible situations, like the 2009 Mets or any mid-level NBA team at any time. The fear of
not spendin
g and turning potential customers off with your inactivity prompts very, very bad decisions. Like handing second starter money to Oliver Perez because shit, you've got to give it to SOMEBODY. This is the kind of thinking that buries medium sized spenders like the Jays.
This leads to point two: never sign a player coming off a career year. This would eliminate Chone Figgans and Jason Bay from consideration. Figgans is a damn fine ballplayer who even turned himself into a good fielding third baseman. He's also a 31 year old speed player who's missed considerable time to injury two of the last three years. Thanks but no thanks.
Jason Bay is also coming off a better than average year. The temptation to sign the Canuck is very high, but the Jays must relent. As was said elsewhere, if you're going to make a run at Bay, why not just go for Matt Holliday? This baseball team needs another awful defensive outfielder like it needs another entitled, arrogant prick starting a condescending blog about it. So who should they acquire, smart guy? Why not start with two guys coming off bad years like
Adrian Beltre
and
J.J. Hardy.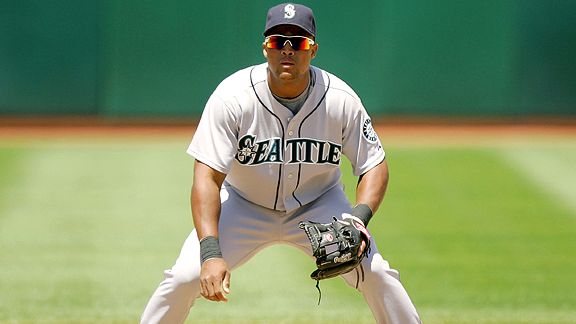 Adrian Beltre is coming off an awful year. Only 6 home runs, one full negative offensive win overall. His walk rate is half his career mark, his slugging and ISO are both way down, too. Bear in mind Beltre is a victim of Safeco Field. 114 extra points of OPS on the road this year &mdash which is even less than usual. Beyond that he's an incredible defensive third baseman that won't command a tremendous price on the market because of his poor traditional counting numbers. He's also a glorious corollary against signing players after huge years. The Jays wouldn't ask him to anchor the middle of their lineup (where have we heard that before?) Beltre at his best is a free-swinging guy with power to all fields. This year he's a free swinging guy with much lower contact numbers and power to
no fields
. He still spreads the ball around but to no avail. His contact rates are down nearly 4% and he appears to be incapable of hitting a fastball.
J.J. Hardy will not be a Milwaukee Brewer next year.
Mostly because of this
and I can't say that I blame them.
The tweaking of his service time
only cements his status on the block (side note: isn't screwing with his service time a clear-cut signal that you're trying to move him, thereby lowering his value? I digress...) Hardy is also coming off a terrible 2009 who he can surely attribute to some bad luck. No matter how hard I try, I can't explain away all his troubles in 2009 to a criminally low BABIP. But criminally low it is, a whooping .257! Compare that to his xBABIP of .306 and you have the recipe for a terrible slump. But you know this, I've gone
on
and
on
about Hardy before. I can't see his price being more than one big league-ready pitching prospect. David Purcey? Brad Mills? The kid with all the z's in his name? Go ahead Melvin, take your pick.
These are two players that represent excellent run prevention (which rarely slumps) and it-can-only-go-up-from-here offensive potential. Are they the keys to success? Not on their own. They should come cheap enough to resign Halladay no questions asked and make a run at the biggest prize the Jays could ask for: Carl Crawford.
Unfortunately, it will take more than money to acquire Carl Crawford. It will take players to get him here and money to extend him. And I don't think they have the young players. The gulf between those that will be the future and those that are the future right now is wide, and the stuff in between isn't worth considering. I'm not comfortable trading Ricky Romero in the division or Brett Cecil at all so what does that leave? Pretty much nothing, which sucks. With Crawford, Beltre, and Hardy in place, the Jays would have the best defensive team around with plenty of money to spend on a free agent starter should a worthy arm emerge from the wilderness.
But one thing the decision makers must recall this time around (if there is a this time around) is spending money now cannot cripple you later. It isn't about squirreling money away until The Perfect Ballplayer enters stage left, it is about getting value at the beginning and end of a deal. 35 year old Jason Bay and 35 year old Chone Figgans don't offer value and they create just as many problems as they fix.