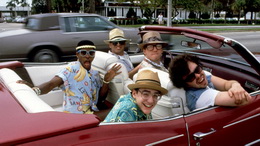 On the heels of my earlier mission to discover the perfect facepalm, I thought it a good time to examine the relationship between WAR and wins a little further. As far as a simple man such as myself can go, that is.
Is WAR really a better indicator of team success than Pythagorean record? It would seem so, on the surface. Neither measure is perfect, but they must come close to predicting/indicating the true talent of a team. Let's see. My wasted morning at work lies below (click to embiggen):
You see the R squared is 0.6818, or a reasonable connection between WAR wins and actual wins. The Jays and Rays are the real outliers here, badly missing their projected win totals. Notice the Yankees and Red Sox bang on the line.
Does it seem as though the bad teams (or at least, the worse teams) are further from the line to you? Does this speak to luck being the only, true differentiator between the wide swath of mediocre teams in baseball?
What about Pythag record? What is the relationship like here?
Well shit. As much as I wanted WAR to be the more accurate of the two; it just isn't so in 2009. Pythag has a much stronger
C.O.D.
and it, every so slightly, breaks my heart.
Does this mean I'm going to become of an Amish Luddite and swear off technology and its awful minions? Hardly. I still think WAR is a great tool for evaluating individual players but in the team setting it breaks down slightly.
Despite our best attempts
, it is a human game. Timing is everything, and that is okay.
As for our fateful Blue Jays, king kommenter SP (who also suggested the two divisions thing a while back) made a great and salient point in the comments of the previous post:
As for the luck thing. It still boggles the mind. How can they be so monumentally unlucky 4 straight years? This stuff is supposed to correct itself over time, right?

It's not like things haven't changed either. The bad luck has persisted through 2 very different coaching regimes, 3 hitting coaches, with good to great pitching, defense, and fielding in each of those years.
What do we do? The Rays had extreme bad luck this year, one season after outperforming their Pythag (by 4) but nailed their true talent wins (96.9 WAR and 97 total wins)? I don't have that answer, but I'm going to try and find out.
What kind of things did the Jays and Rays have in common this year? What was different between the 08 and 09 Rays? Stay tuned, as they say.
All WAR data courtesy of Fangraphs and Pythag stuff via Baseball Reference. Doing the Lord's work