Do you ever feel as though you've stumbled upon the set of a hacky hidden camera show? I was on the subway the other day and I came across a guy that took the "nerd" archetype to new heights. This poor bastard looked like every shitty sketch comedy cliche heaped on top of one another. The ferret-like posture, the mustache/goatee of dried and cracked skin, the Issac Asimov reader (not a book underlined; clearly something that picked up at an event that's title ended in -CON), all the way down to glasses that resembled, in both thickness and aesthetic appeal, the headlights of 1986 K Car. I don't know that I felt bad for him, but I definitely couldn't take my eyes off him.
With that self righteousness out of the way, I encourage everyone to
read my Jays season preview over at 3:10 to Joba.
These fine fellows are previewing every team in the league, and they asked me to address the desperation felt by Jays fans. The only thing I'm really desperate for is acceptance of the Jays as a good team. I hate that they're swept aside as a "non-contender" despite being such a good team. A little respect is all we ask for, AMIRITE?
Speaking of respect, Walkoff Walk celebrated it's one year anniversary on Saturday. This week kicked off with some
best
of
lists, and
today was my turn
. It's truly a pleasure to work with those fine gentleman, and I thank them for the opportunity to spread my Clooneyness.
If you are a Mariners fan, there is good reason for excitement. A new GM has taken the club in new and modern directions, giving hope to the pointy heads at USS Mariner.
Recently they used the 2003 Mariners as a successful model that the 2009 Mariners could follow.
While I don't care too much for the M's, I certainly see connections between the 2003 Mariners team that won 93 games (
Pythaged for 98!
) and the 2009 Toronto Blue Jays.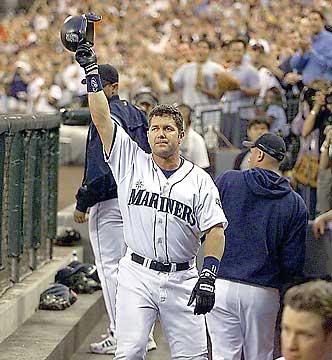 In fact, the 2008 or 2009 Jays stack up very favorably to the 2003 Mariners. That year the Mariners had a pretty meager offense, solid pitching and excellent defense. Looking around the diamond, they got next to no production from 4 positions (C, 3B, LF, 1B). The Jays aren't likely to match the 3 offensive wins at DH and 2B, but they can more than make up the slack at the previously mentioned spots. Lyle Overbay should easily match the output of 36 year old John Olerud offensively while providing the same high level of defense.
As the USSers point out, they were one of the top defensive clubs with a +55 for the season. The Jays were +72 last year, and could improve in a few ways. A full season of Aaron Hill, no Mench-Wilkerson-Stairs shaped holes in the outfield, a hopefully recovered (
or relocated
) Vernon Wells could all contribute to improving the Jays already excellent defense.
Even with big seasons from Bret Boone & Edgar Martinez, an Ichiro-sized season from uh, Ichiro, and average contributions from the rest, that Mariners offense was almost identical to the 2008 Jays. 20 extra points of team OPS, a little higher isolated power (4 points) yet the Mariners were worth
almost 50 more runs above average
than the 2008 Jays. How could this be? Get the vomitsacks ready, it's all about situational hitting.
The 2003 M's lead the league with a 3.74 "clutch rating"
, or how much the performed in high leverage situations versus their calculated context neutral rates (WPA/LI). That is a very high number, but not nearly as out of this world lucky as the 2008 Angels, who's unsustainable
7.32 dominated the American League in unnatural ways.
As you may know, the 2008 Jays were a terrible situational or clutch team, notching a pathetic -1.65 clutch measurement. The main offenders predictably were Lyle Overbay and Alex Rios, each struggling in high leverage situations.
So a few bounces, continued glove work, the kids make up AJ's 3 wins - boom the Jays win 90 games. Right?? Right??? Why not debate it tonight with
the Blue Jay Hunter
, he's hosting a live chat over
his way
at 9pm. Swing by and check it out!