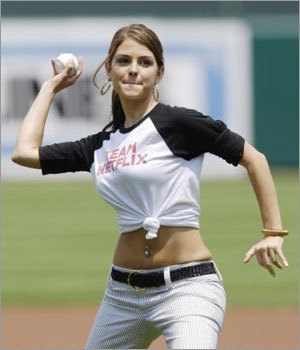 From
Bart Given's blog today
comes the story of Jim Fregosi (probably my least-favorite Jays manager ever. Bringing in his boy Dave Hollins right after he took the helm summarized everything I hate about closed societies and nepotism. Fuck them both) Late in a game against Seattle; wise sage Fregosi pinch hits for career year-having Brad Fulmer. Fregrosi takes credit after the game for making a prescient managerial decision. The truth is now revealed:
It turns out Fregosi had no intention of hitting for Fullmer, but he never showed and none of the staff could find him in the clubhouse. I'm not sure exactly where he was, but knowing the ultra-intense Fullmer - he was likely waggling a bat somewhere working on his swing.

Fullmer felt terrible and Fregosi didn't want to embarrass him so he covered with the media.
Well shit. We armchair warriors piss and moan all day about
shitty decisions that are or aren't made in the heat of battle, but it turns out we know nothing.
That actually isn't true. There are many people much smarter than me that know the mathematically or baseball-sensibly sound thing to do at any moment, and that is all we have to go on.
I'm sure Ernie Whitt read this and thought "yeah, that's what I was doing against Italy. I was covering for my no-account scums on the bench. I'm a stand-up guy." I'm positive Ernie Whitt will never read this, nor will he have read Bart Given's blog. Who's taking bets on his ability to send and receive email?